ORU's President, appointed member of UNACLA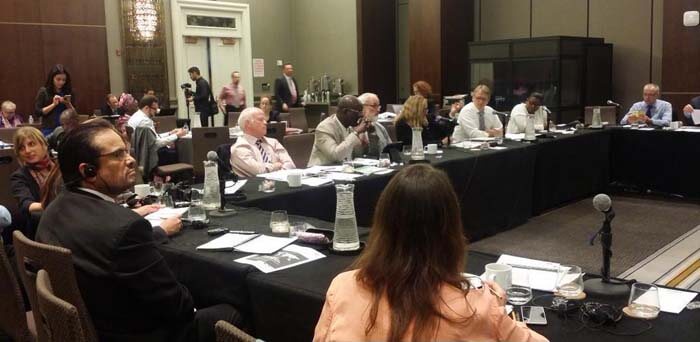 The United Nations Advisory Committee of Local Authorities (UNACLA) has appointed ORU's President, Paúl Carrasco, as one of its members.  UNACLA is the advisory body on urban matters of the UN-Habitat, made up of mayors and representatives of cities associations chosen by the agency and by the United Cities and Local Governments organisation (UCLG). After restructuring its members, the new Committee met for the first time in New York, last 27th September. Carrasco attended this meeting as newly elected member in representation of ORU and the regional governments.     
The meeting took place in the Permanent Mission of Turkey to the United Nations and its main purpose was to welcome the new members and to adopt the 2016-2019 Work Program. UNACLA's strategies to have a positive impact on the international discussions on the Post-2015 Agenda, the SDGs and the MDGs and the sustainable urban development policies. In this sense, ORU's President presented his proposals for regional and local measures that would help meet those goals, placing emphasis on the need to create spaces for greater proximity with the citizens and the communities. 
"We need family-based and inclusive economic processes, as well as generating a social model for production from the territories", he stated, and he went on to say that "the only way to run a country is through democracy as a sustainable political model implying social expression, dialogue, rights and organisation." Carrasco also insisted on the need to pay attention to the 11th Goal on Sustainable Development, devoted to sustainable cities and communities, since it "envisages support to positive economic, social and environmental linkages between the urban, peri-urban and rural areas, through strengthened panning of nation and regional development". 
UNACLA's aim is to give voice to local governments within the United Nations, in the form of recommendations and focusing its advisory work towards Habitat's Program. In this sense, Paúl Carrasco's contribution as ORU's spokesperson is essential, as it will bring the regional matters to the discussions on the role of intermediate governments in sustainable development.