México DF becomes a Federal State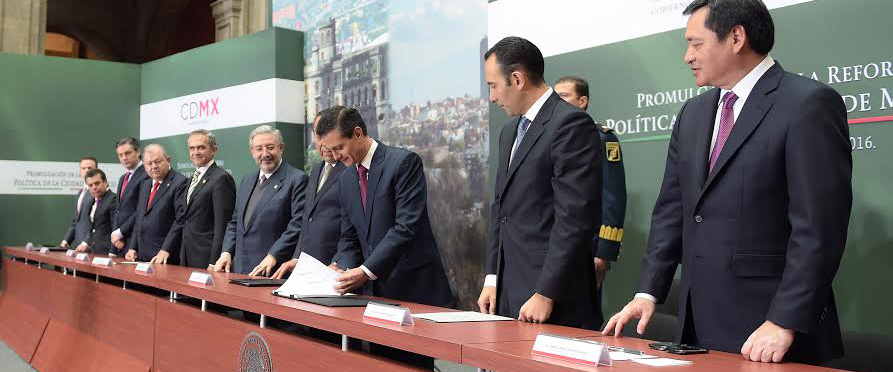 On the 29th January 2016, the city of México DF (Federal District) begun the official transition towards a Federal State. A political reform has allowed the Mexican capital to become the 32nd state of the Republic, which has been renamed as Ciudad de México. The new federal entity will have managerial autonomy and its own Constitution, while continuing to be the country's capital.
The political reform of the Federal District had been, for the last fifteen year, one of the issues pending on the legislative agenda of the National Congress. The Senators Chamber held twelve forums and two audiences between December 2012 and June 2014, during which the reform initiative for the DF was presented, and finally adopted at the Senator's Camber plenary session.
Some of the changes arising from the reform, include the transformation of the regional headquarters into territorial demarcations managed by mayors.  The powers of Ciudad de México will be reinforced under the new status through the executive, legislative and legal bodies. The Federal District's Head of Government, Miguel Ángel Mancera, wrote on his Twitter account that "a new phase in Ciudad de Mexico has begun, based on a Constitution in line with our values and aspirations" and that "the political reform will bring more autonomy and more citizen participation in the government's actions".
The next efforts will focus on drafting the Constitution. The National Electoral Institute (INE) shall call election on the first Sunday of June to vote 60 of the 100 deputies that will make up the Constituent Assembly. The 40 remaining shall be designated by the Chamber of Deputies (14) the Senate (14), the Head of Government (6) and the President of the Republic, Enrique Peña Nieto (6). The Constituent Assembly will meet on the 15th September to begin the drafting of the new Constitution, which shall be adopted before the 31st January 2017.  
Cover image: © Gobierno de CDMX
Above: © Presidencia de la República - Gobierno de México