ORU came before Bolivia's governments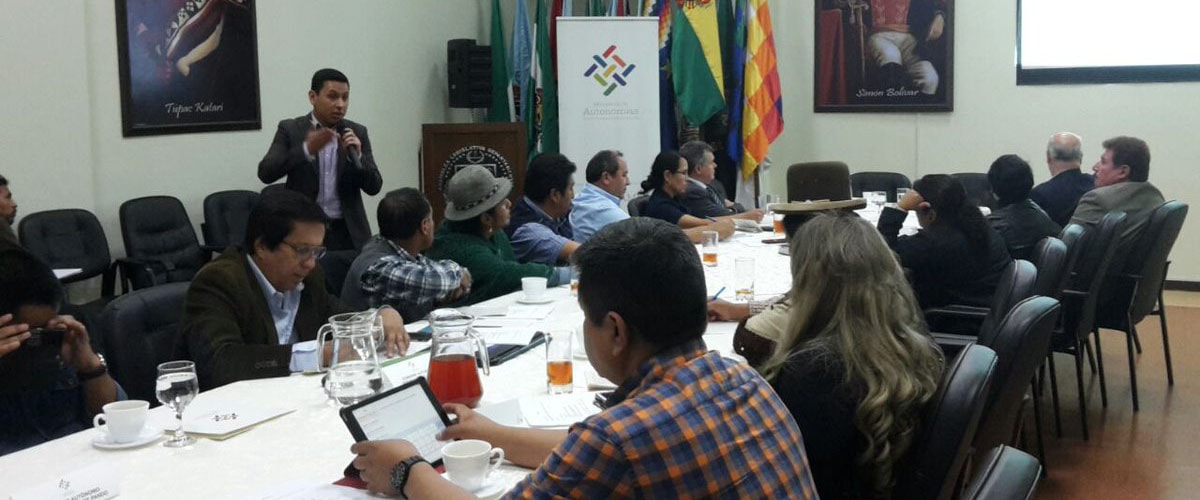 The seminar "Role of Departmental Autonomous Governments in International Relations" shared experiences on decentralization 
On the 21st of October, the Ministry of Autonomies of the Plurinational State of Bolivia held in Cochabamba the Seminar "Role of Departmental Autonomous Governorates (GAD) in International Relations". ORU Fogar participated as special guest in the meeting, represented by its Secretary General, Carles Llorens, who presented the work of the organization and its experience on intermediate governments, while inviting the Bolivian governorates to join the Organization. 
Representatives of every GAD in the country participated in the meeting, with the objective of sharing experiences on decentralization and debating on regional internationalization as a mechanism to foster Local Economic Development. As the vice-Minister of Native Indigenous Peasant Autonomies and Territorial Organization, Gonzalo Vargas, pointed out, the autonomic model of Bolivia is becoming an international benchmark: "It is a unique model, with very particular characteristics. That's why at the Ministry of Autonomies we are promoting an internationalization perspective and we are regarded as a reference by other countries", he affirmed.
Carles Llorens explained that ORU Fogar has an active relationship with the Ministry of Autonomies – in fact, the decision of organizing the seminar was taken during the VII World Summit on Regional Governments that ORU held in Rio de Janeiro last April-, "but our destiny is to interact with sub-national governments, with departments, to take direct actions and work together at the international level". Right after that, the Secretary General presented to the participants the working framework of the organization and explained to the Bolivian Governorates how to join the network and participate in its tasks.
Towards the DEL Forum in Cochabamba              
The Seminar also served to coordinate the organization of the "II Regional Forum on Economic Development for Latin-America and the Caribbean", since ORU Fogar is a member of the Executive Committee of the World Forum on Local Economic Development (LED). The event, which will take place from the 28th to 31st of March 2017 in Cochabamba, will be officially presented on the upcoming 6th of December by the Autonomies Ministry of Bolivia.