The Basque Country presents the Agenda Euskadi Basque Country 2030, aligned with the Sustainable Development Goals of the UN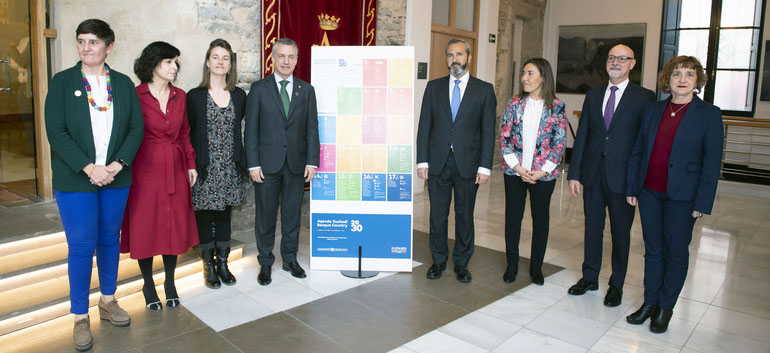 The document constitutes the next step in the commitment of the Basque Government to focus its public policies on the challenges of the UN´s 2030 Agenda. This is the first Public Administration of the Spanish State to reflect its compromise with the 2030 Agenda. The Lehendakari stressed the importance of the implication of the sub-state entities for the consecution of the SDG.
The Lehendakari (The Basque Government´s President) Iñigo Urkullu presented the Agenda Euskadi Basque Country 2030. The Basque contribution to the Sustainable Development Goals promoted by the United Nations. The UN approved 17 Goals (SDG) to end with poverty in all its forms, reduce inequality and fight against climate change ensuring, at the same time, that no one is left behind. The document presented by the Lehendakari reflects the level of the alignment and contribution of the Government Program with this universal guide of Sustainable Development.
Precisely, links the 17 Sustainable Development Goals and the 100 targets of the 2030 Agenda with the 93 Commitments acquired by the Basque Government in its Government Program, 80 Planning Instruments, 19 Legislative Initiatives and 50 Indicators. This way the public policies of Euskadi are aligned with this universal Agenda, making visible the contribution of Euskadi to its implementation.
The 2030 Agenda fully coincides with the priorities of the Basque Government, fundamentally: a human development guaranteeing essential services for all the people, and sustainable growth, generating job opportunities to higher levels of quality. This is the Basque model of growth and social welfare, now strengthened by the presentation of Agenda Euskadi Basque Country 2030. Euskadi shares the United Nation´s vision of a world focusing on people, committed to protecting the planet and peaceful co-habitation, capable of generating prosperity through a model of alliances or partnership. This Agenda defines Euskadi´s future vision in the local and global scenario.
The objective of the Basque Government is to join forces and to reflect a Country´s compromise in an international scenario, where sub-state entities´ voice will be taken into account, defending the "incorporation of the multilevel governance and respect to the responsibilities and political will of the different levels of Government" to implement the SDG.