Sustainable and responsible tourism even in the oases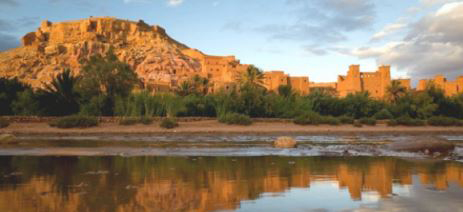 Between the 28th and the 30th of January, the eighth International Forum on Solidarity Tourism took place in the Drâa Tafilalet region in the city of Ouarzazate, Morocco. The event especially focused on the tourism strategy to adopt concerning locations as peculiar as oases, and benefited from professional expertise from Egypt, Morocco, Niger, Algeria, Mexico and Tunisia. This event gathered more than 400 representatives of local, regional and national governments, as well as tourism professionals, the media, associations, experts for whom the protection of oasis and the development of responsible tourism are both possible and desirable.
It all started with the idea that oasis -which are ecosystems patiently maintained  by humans during millenniums, for the most part alongside the roads the caravans followed throughout history- can have an undeniable tourist appeal. However, it was noted that even though oases have always sustained themselves with a low supply of water and soil; their touristic development , specially in these times of climage change, must be done with special consideration to their fragility. 
Since it focused on the good practice of tourism, the Forum drew some conclusions which represent an ambitious program both for oases tourism and responsible and sustainable tourism. A specific program was established in order to strengthen the stakeholders of Responsible and Fair Tourism with the intention of coordinating them with others tourism stakeholders. Thus, creating an international network that would promote the exchange of experiences and advocacy.
The French region Provence Alpes Côte d'Azur helped organizing the event.