The Regions in favor of accelerating the SDGs at the HLPF of the United Nations.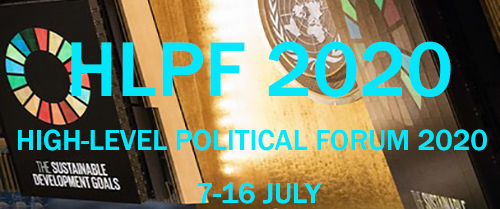 The various ORU Fogar members which participated in the High-Level Political Forum on Sustainable Development (HLPF) of the United Nations, confirmed their commitment to the implementation of the 2030 Agenda and supported the UN General Secretary who prompted to launch actions that would accelerate the SDGs.  
The HLPF is the annual meeting conducted by the United Nations in charge of reviewing the advancements of the 2030 Agenda for Sustainable Development. Each year it focuses on a particular theme and on reviewing a specific component of the Sustainable Development Goals (SDGs). The 2020 HLPF started on the 7 th of July and ended on the 16th of July 2020. The selected theme was "Accelerated action and transformative pathways: realizing the decade of action and delivery for sustainable development". During this meeting and for the first time, 50 countries presented on a voluntary basis their national assessments to the HLPF. 
In the framework of the HLPF, on the 10th day was celebrated the Local and Regional Governments Day which relied on a strong representation of ORU Fogar. During the opening of the event, the catalan councillor Bernat Solé assured that the local and regional governments have an irreplaceable role to play to achieve the 2030 Agenda Goals and appeared to be in favor of "an actualized system of global governance and a strong multilateral coordination". Pablo Jurado on behalf of CONGOPE, the provincial government of Ecuador, explained that the central governments must understand that the solution to the problems call for a good articulation with local and regional governments". Luis Mariano Fernández, General Secretary of ZICOSUR explained that the COVID-19 crisis had entailed tackling an urgent situation, but that it was necessary to resume the 2030 Agenda as "a roadmap for posterior reconstruction and transformation". Eugène Aka Aouelé, the President of ARDCI, the Ivory Coast Regions, and health minister assured that in order to be more "resilient facing situations such as this pandemic, it is necessary to strengthen the regions". 
On the 13th of July, during the Local and Regional Governments Forum, the President of ORU Fogar, Abdessamad Sekkal, approved all these proposals. He explained that, even though the role of the regions is fully acknowledged when it comes to implement the three global agendas (SDGs, Paris Agreements, the New Urban Agenda), they often lack powers and financial capacities. He assured that that is the true governance challenge that is even more visible in the territories and regions of the South, where the decentralization process it yet to be completed and is confronted with complicated mechanisms for the efficient transfer of financial resources and qualified staff".