How Defending Traditional Gastronomy Helps Laying Foundation for Food Security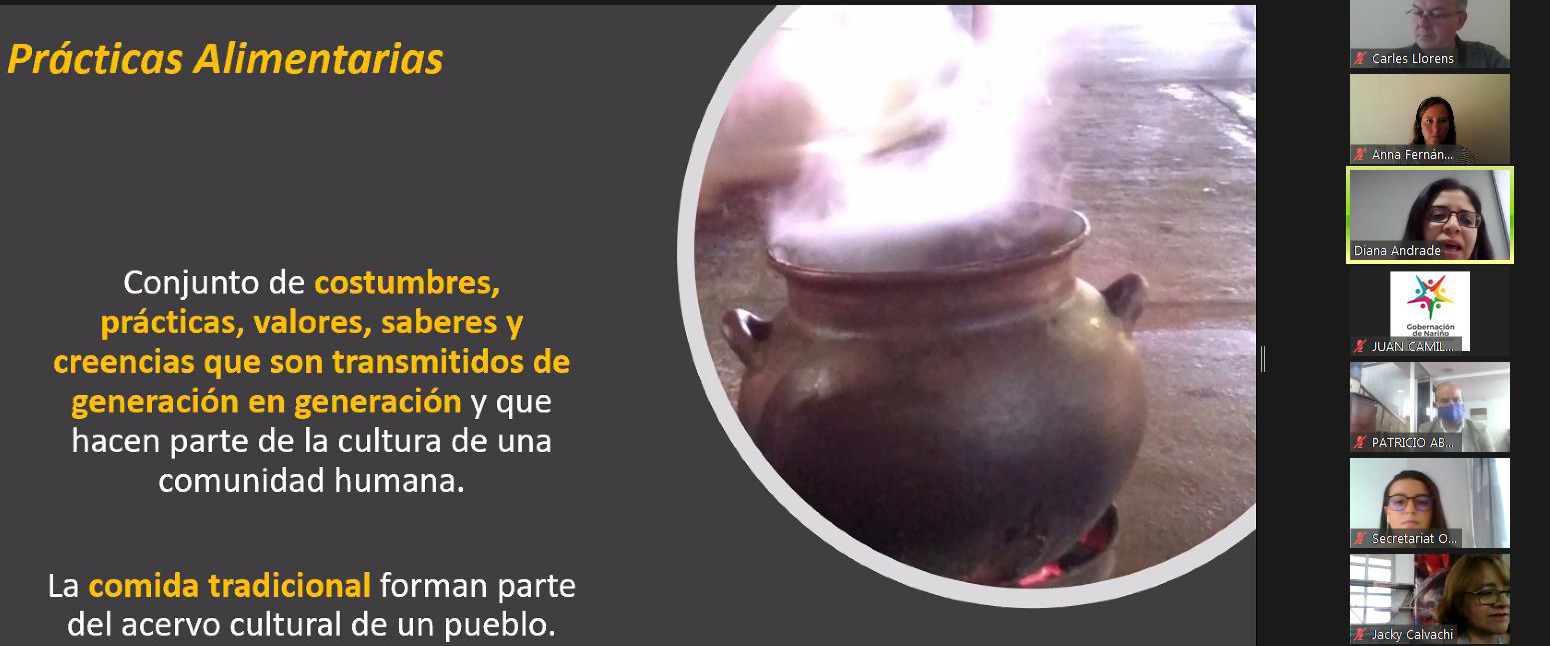 During the webinar organized by the Core Group on Food Security of ORU Fogar, and which took place last September 24 was dedicated to Nariño's (Colombia) food projects, and where it has been revealed that the defense of traditional food is of great contribution for the fight for food security. 
The webinar entitled "Nariño, the food issue of a territory that strives for peace" was presented by Patricio Abad, Director of Cooperation of the Ecuadorian regional government of Azuay, representing the presidency of the Core Group. Patricio Abad advocated for the benefits of an agro-ecological production and the necessity for providing access to healthy products. As for the representatives of Nariño they followed up by saying they were in favor of preserving traditional and ancestral crops all the while protecting traditional gastronomy.
Jackeline Calvachi, in charge of Cooperation in Nariño, recalled the times when the department was a large agricultural space, with a geography that goes from the coast to the mountains and had all kinds of climates and agricultural products. That is a situation; she said, that needs to be returned to, overcoming the years of armed conflicts and the existence of illicit crops in the territory. Camilo Guevara, head of the department's Food Programs, told about the ongoing projects and stated that they stem from the "progressive right to food." It should be remembered that, in Nariño, 60% of the population could suffer from food security issues and that, as of the COVID-19 pandemic, the figures may have risen to 80%.
It was Professor Diana Andrade who presented a study on the food consequences of the pandemic who made the most concrete proposals. She explained that the pandemic had exacerbated the population's tendency to consume processed products instead of fresh and local ones. "It's not that processed products have a lower nutritional value, she said, but rather that they are produced far from the territory and do not contribute to the local development." Thus, she advocated for the recovery of native fruits, Andean tubers and all types of ancestral corns. "We must promote the production of all these foods, she argued, protect our markets and shorten the distance between producers and consumers". She was in favor of defending a food identity and the cultural heritage it represents as well as rejecting nutritional homogenization. As a result of all this, she defended traditional food, typical food preparation and eating as a social and cultural act. "If we reinforce all this, then we shall establish food security."
The representative of FAO in Colombia, Ernesto Sánchez, also participated in the event.